UNDER THE DRYER
This Holiday Gift Set By JVN Hair Is THE Gift For 2023

Keeping your hair healthy while making it look amazing can be easy when you have the right tools. That's where the limited edition Bring The Heat holiday hair set comes in.
Finding the perfect products for the hair of your dreams can feel a little overwhelming - but we're here to let you in on the best hack ever. Shop holiday gift sets by JVN.
It's true! These sets are hand curated to provide everything you need for every stunning style you can dream up, with the latest Bring The Heat set being one of our current favs for 2024 hair trends. Filled with three bestsellers for healthy, shiny, smooth and protected hair - here are all the reasons this set is a styling gamechanger.
WHAT HAIR TYPE IS IT FOR? YOURS.
JVN is already formulated for all hair types, so everyone from 1B to 3A to 4C and every gorgeous pattern in between can use the essentials in this set. Fine, medium and coarse hair too! What kind of styles can you do with it, you may ask? So many.
Salon-Level Blowout
You just left the salon and your bouncy blowout is def the main character. Not only that - it lasts for days. So bust out the round brushes and the velcro rollers, cuz the products in this set are here to help you score the look whenever you want. (JVN Pro Tip: Nourishing Shine Drops is fantastic for keeping your look smooth and shiny on day two as well.)
Curled to Perfection
Love to bust out your Beachwaver or that Dyson Airwrap? How about your trusty curling iron you bought from the drugstore in 2002? Instant Recovery Serum will protect your hair up to 450°F and extend your style as you create your fav curly and wavy looks.
Sleek And Stunning
You're going for sultry. For mystery. You have a straightening brush, hot comb, or flat iron and you're not going to stop until your hair looks like a sheet of shiny glass. Not only will your hair be protected through the process, but Blowout Styling Milk will help control frizz by 99%, even in high humidity, for up to 48 hours. So go ahead, get your sleek on.
IT MAKES HEAT STYLING SUPER EASY
Heat styling can leave your hair feeling dry or damaged if you don't have the right products to keep it pretty and protected throughout the process. We've taken all of the guesswork out of what you need for the perfect heat style by creating a total routine with 3 simple steps that not only make your hair look amaze, but keep it healthy too.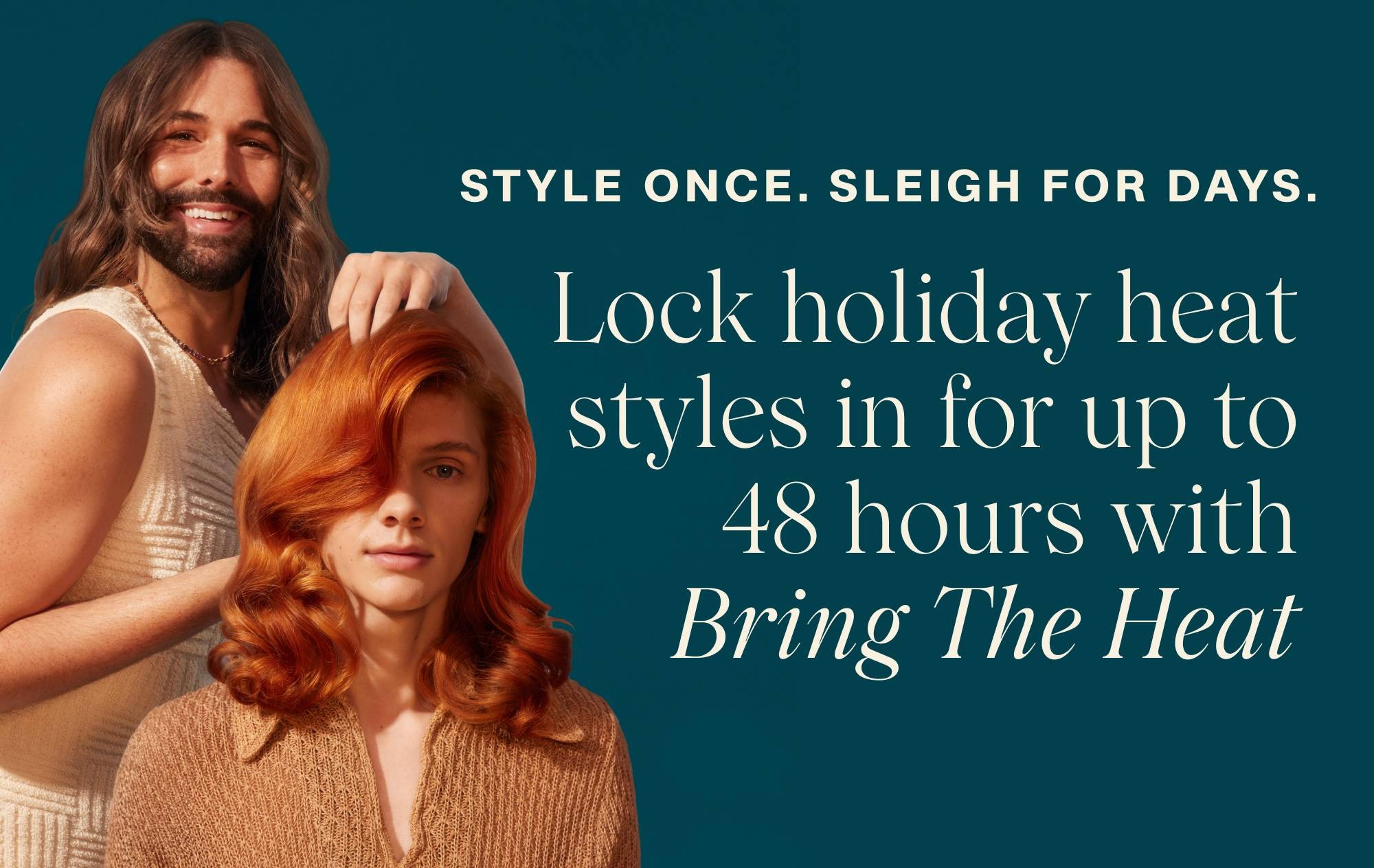 ALL THREE PRODUCTS CAN BE USED SEPERATELY TOO
Each of these powerhouse formulations bring their own benefits to the table, which means you can use them alone as well depending on what #hairgoals you're looking to achieve on any given day. We love a versatility moment.
Use Instant Recovery Serum as a treatment on days you don't style for added strength and nourishment.
Blowout Styling Milk contains Orchid Milk, which is dreamy for locking in moisture for dry hair, especially dry winter hair. A little of this on its own for those days when you're doing even a super quick blowout will keep your hair looking great while feeling soft and hydrated.
Nourishing Shine Drops aren't only for creating the perfect finished look - they have hair health benefits too like 100% UV protection. Apply them wet or dry - you do you.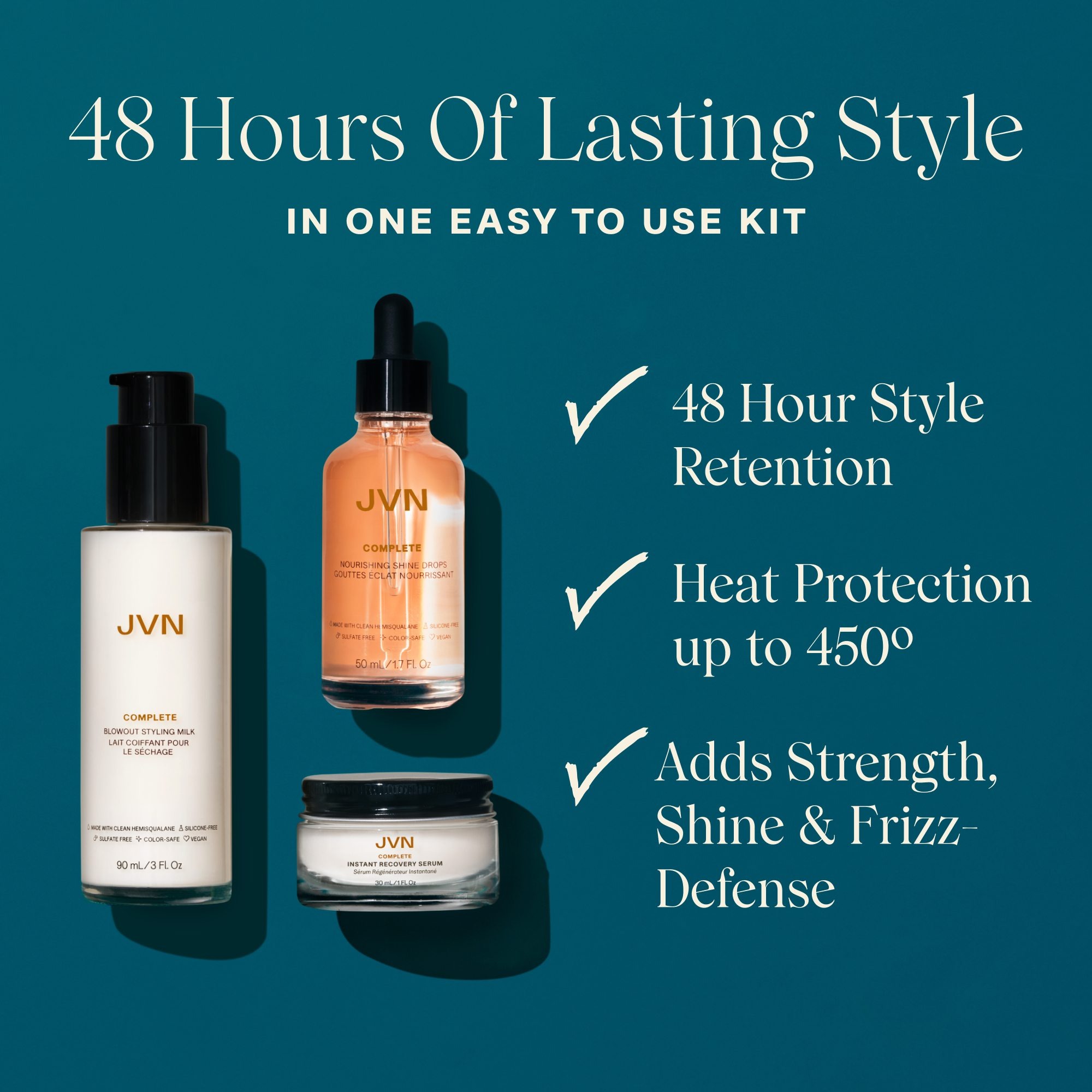 THE PRICE IS A PERK OF ITS OWN
Waiting for the ultimate Black Friday deals or Cyber Monday Deals doesn't even have to be a thing when you go the hair gift set route. Don't get us wrong, we're def shopping those too, but JVN's hair sets are priced at a savings right out of the gate.
Valued at $67, the idea that we can score 2 full size stylers and one travel size for under $50 with the Bring The Heat set is mind boggling.
GORGEOUS GIFT ALERT
You can really take some of the stress of holiday shopping off your list with this one. From the beautiful box to the inclusivity of the formulas - this one is amazing for everyone in your life that likes to do a little heat styling.
Gifting ideas:
Sets like this make a perfect gift for hairdressers - your stylist def wants to play with allll the products. Trust us.
Grab this as a gift for your partner or a gift for your significant other. Your boo will thank you.
Does your bestie have short hair? Great! All hair lengths love heat protection, style memory and shine.
This one is gonna hit the steal limit if you bring it for the office gift swap.
Pamper an in-law. They'll remember it the next time you need a sitter.
Last but never ever least - you. Give yourself the gift of gorgeous hair. You deserve it.
FOLLOW US FOR MORE!
About JVN
With a focus on science-backed, sustainable ingredients that are truly effective, JVN is nongendered haircare made for everyone.
About JVN
With a focus on science-backed, sustainable ingredients that are truly effective, JVN is nongendered haircare made for everyone.