UNDER THE DRYER
Medical Trauma and Your Hair - How One Mom Revived Her Post-Illness Hair With JVN
When Joseph Singh, JVN's Global Director of Product Marketing, Strategy & Education, gave his mother some new JVN haircare as a gift, he didn't realize the impact it would have.
MONICA'S STORY
In early 2021, Monica Singh underwent an emergency open heart surgery. Within a few weeks of her recovery, she began to experience pain and discomfort that were quickly revealed to be an infection - an infection that would eventually turn into sepsis.
"It was so severe, had she been a day later going to the hospital, she wouldn't have made it," says Joseph. "This was terrifying. My mom is my everything."
Sepsis is a life threatening medical emergency. Monica was initially admitted to the ICU and began intense treatments immediately that would require a 2 month hospital stay. Thankfully, those treatments saved her life - but they (along with the after effects from the severity of her illness) took a significant toll, especially on her hair.
"She'd always had very healthy, lux looking hair. She loves to play with color and styles," Joseph said. "Afterwards it wasn't the hair she had before she went in."
HER HEALING HAIR JOURNEY
Systemic disruptions, the body's reaction to medications, and extreme or prolonged stress can commonly result in hair loss, dryness, breakage, frizz and dullness. Some of the most common questions we see center around COVID-19 hair loss, postpartum hair loss and the effects of chronic illness on hair integrity. As a result of her ordeal, Monica's hair became brittle and dry, resulting in strands that broke more easily and took on a duller, rougher texture than before.
These changes can be disheartening and stressful, especially when trying to focus on getting well. While she was making great strides every day, Joseph noticed his mother's anxiety over the condition of her hair. "I got the job [at JVN] just a few months after her release and gave her some products to try. Within a month, she was amazed at the results," said Joseph.
He started her off with Instant Recovery Serum, Undamage Strengthening Shampoo and Nurture Hydrating Conditioner to try. Each of these products contain sustainably sourced, strengthening ingredients like Hemisqualane, Ceramides and Niacinamide - as well as rich, moisturizing ingredients like Amino Acids and Camellia Seed Oil. This new trio would quickly become Monica's new all time favorite.
"Her hair was more silky and soft and the frizz was gone. I saw more body, more waves - it made a big difference. I love it, I love it." gushes Monica. "My hair was very frizzy in the hospital. I was losing my hair, but these products made it so healthy, my hair felt like it started to grow again. I would recommend JVN because it's the best. I've tried other shampoos and I would just throw them away. JVN? I want more."
IT'S ABOUT FEELING LIKE YOUR BEST SELF
Being part of a story like Monica's is what drives us at JVN. Since making a full recovery, she's back to playing with styles and colors again - enjoying her hair the way she used to. "I've never seen my mom so happy with her hair," Joseph says. "She means the world to me."
We want everyone to feel like their strongest and most confident every step of the way and we're honored to be part of every journey of self discovery, self care, personal expression, healing, joy, triumph and celebration. For us, that's what it's all about.
About JVN
With a focus on science-backed, sustainable ingredients that are truly effective, JVN is nongendered haircare made for everyone.
About JVN
With a focus on science-backed, sustainable ingredients that are truly effective, JVN is nongendered haircare made for everyone.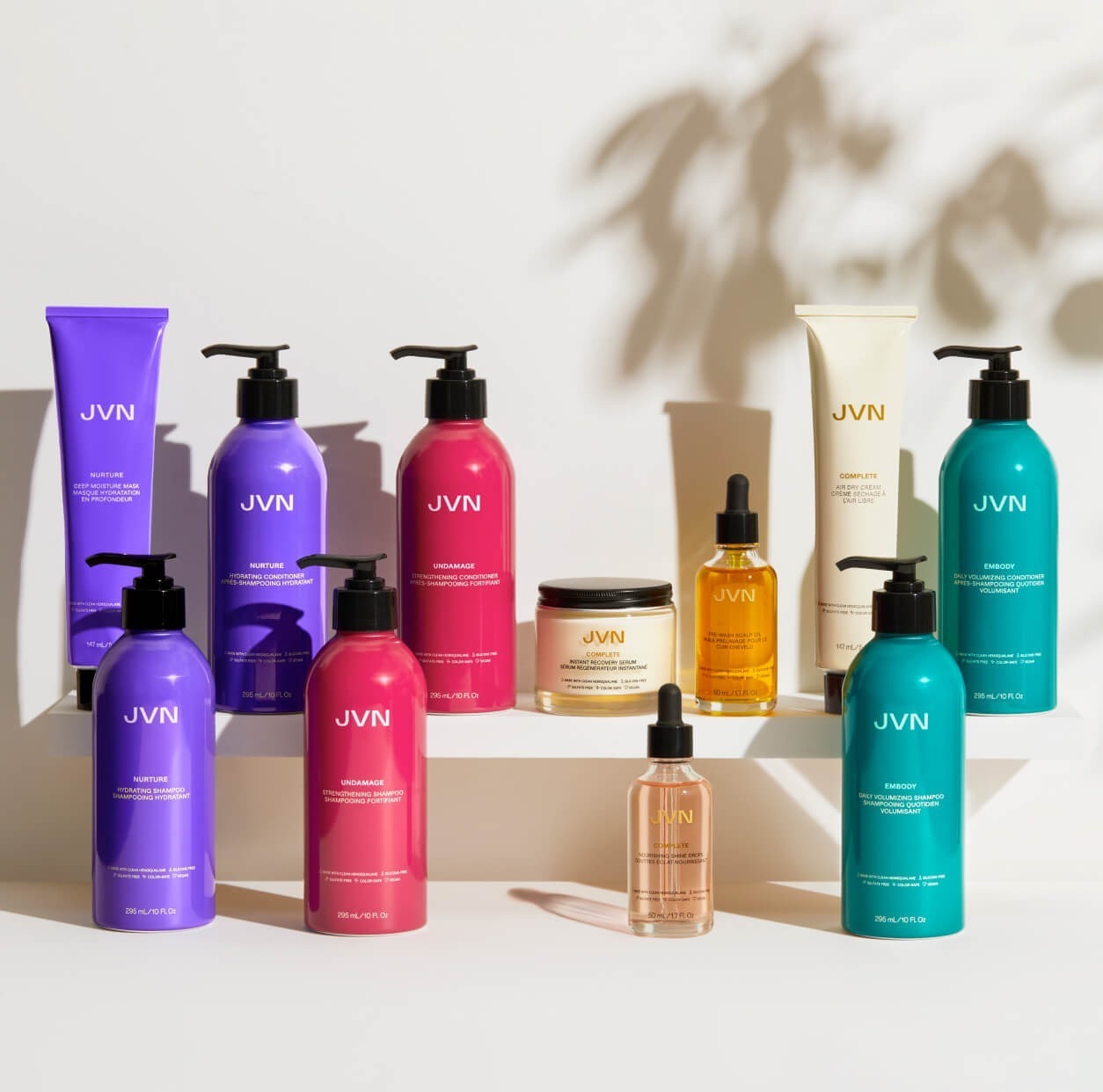 Want to find what's right for you?
TAKE THE QUIZ