UNDER THE DRYER
JVN Is Giving Back To Help The Planet. Here's How!
From clean formulas and mindful packaging to a partnership with 1% for the Planet featuring our Pre-Wash Scalp Oil - JVN Hair has a more gorgeous future in our sights.
You are savvy peeps. You are more knowledgeable about the ingredients in your personal care products and the packages that they come in than ever before - and you only want the very best. For haircare obsessed people like us, we love that!
After all, we're consumers just like you who want our hair to look amaze without having to worry about it harming our strands, the planet or anyone living in it. Want to know more about our planet focused plans? Take a look at our three-step approach to a cleaner, brighter, more conscientious future.
GROUNDBREAKING SCIENCE
We take care to only source the highest quality, sustainable, vegan ingredients. But what happens when we can't source something that meets our standards? We make it ourselves.
Take volatile silicones for example. Commonly used in haircare to add shine & softness, they can cause detrimental long term effects to your hair and to the environment when rinsed off. Natural alternatives to silicones exist, are often animal derived or use unsustainable processes to make them.
At JVN, we said "challenge accepted." Through the innovation of our own scientists, we used biotechnology to create Hemisqualane. Bio-fermented from sustainably sourced sugarcane - similar to the process used to produce familiar things like cheese, beer and sauerkraut - Hemisqualane is a completely clean alternative to silicones.
This revolutionary ingredient provides shine, softness, frizz control and nourishment for instantly healthier hair with every use - without risk of build up or negative impact on waterways and aquatic life. By melding science with nature to create an effective, safe and cleaner synthetic ingredient than the alternatives out there, we're breaking new ground for the future of sustainable personal care. Honestly, as the saying goes, if you want something done - do it yourself!
SUSTAINABLE PACKAGING
The global personal care and beauty industries are estimated to produce an average of 120 billion units of packaging per year - with much of it being rigid plastics. We decided we were going to go with a different approach. Infinitely recyclable materials!
Each of our bottles, tubes and jars are made from glass or aluminum - making them recyclable and also reusable over and over and over. Seriously, did you know that both aluminum and glass can be recycled again and again without degrading and 75% of all aluminum ever produced is still in use today?
It's not just our bottles, it's also our packaging. All of our product boxes are 100% recyclable too, while our paper is FSC-certified and printed with soy-based ink. FSC-certification ensures that our paper only comes from responsibly managed forests that provide environmental, social and economic benefits.
GIVING BACK
JVN is proud to partner with 1% for the Planet, an organization that works to prevent greenwashing, certifies reputable giving and provides accountability for environmental giving. By providing a global network for businesses and environmental partners to work together toward addressing the pressing issues our planet faces on the daily, 1% for the Planet ensures verified giving through verified organizations. Through this partnership, we are able to further our positive impact on planet-focused issues and support eco and social initiatives we feel passionately about.
This year, JVN will be donating 1% of all Pre-Wash Scalp Oil net sales to fulfill our 1% for the Planet promise to support organizations working toward a better world.
SUSTAINABLE IS ATTAINABLE
Our founder, expert stylist Jonathan Van Ness, would only launch a brand that was sustainably created - which is one of the main reasons they selected Amyris as their partner when choosing to bring JVN Hair to life.
From the moment our brand was launched, sustainability was baked directly into every single choice - which actually makes perfect sense if you think about it. Creating prestige performance haircare for everyone should be clean and sustainable to be truly inclusive.
"At JVN Hair we know we need sustainable solutions, which is why we prioritize innovating our formulations to include ingredients like Hemisqualane and use glass and aluminum in our core packaging to minimize negative environmental impact," Jonathan says. "Through our partnership with 1% for the Planet we can support conservation efforts within vast and varied communities using multi-layered approaches for the most meaningful impact."
Thank you for choosing JVN and for helping to protect our environment by being part of our incredible global community. It's because of you that we can make a difference!
About JVN
With a focus on science-backed, sustainable ingredients that are truly effective, JVN is nongendered haircare made for everyone.
About JVN
With a focus on science-backed, sustainable ingredients that are truly effective, JVN is nongendered haircare made for everyone.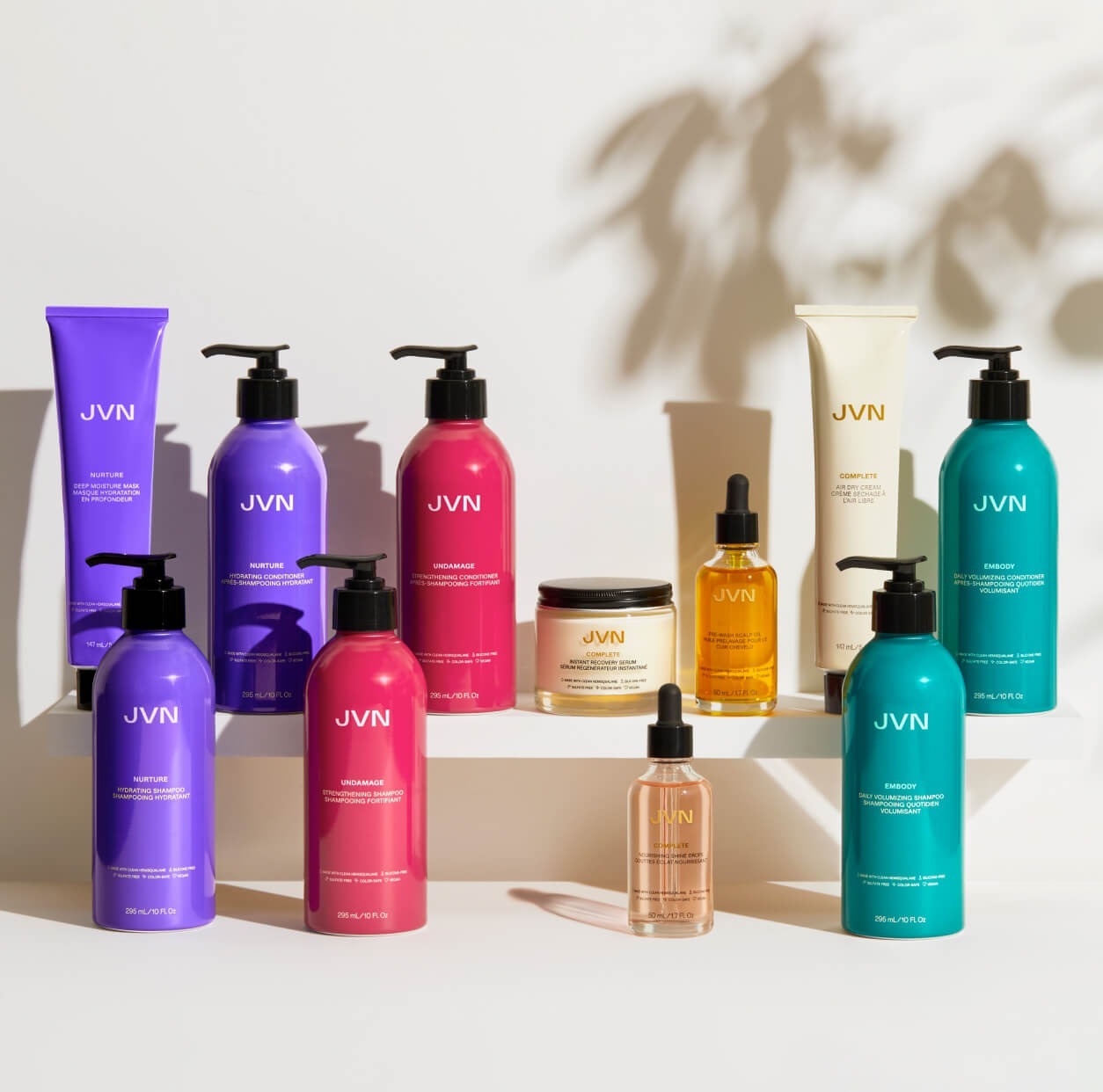 Want to find what's right for you?
TAKE THE QUIZ