UNDER THE DRYER
Here's Exactly Why Scalp Care is Essential For Healthy Hair
Off the "top of our heads," we'd say scalp care is important….not sorry. You know why? It's literally the "root" of all happy hair…still not sorry.
WHAT DOES THE SCALP DO?
You're probably asking yourself, "Why is it important to take care of my scalp?" We're going to get sciency for one tiny second, but I promise we'll make it super quick. It boils down to build up and microbiomes. On a high level, your scalp (like the rest of your skin) has its own world of beneficial bacteria and microorganisms that live up there and keep things in healthy, harmonious balance - your scalp's microbiome.
A variety of things can disrupt this happy little ecosystem, with buildup from oils and dirt as well as dryness from environmental stressors or overwashing ranking high on the list. This disruption can create inflammation, itching, flaking, clogged pores and follicles that prevent sebum from moisturizing your hair or blocking new hair from being able to grow at all!
CLARIFY AND CALM YOUR SCALP WITH PRE-WASH SCALP OIL
The next question you're probably asking is, "Okay, so how do I take care of my scalp?" First, you'll want to start with Pre-Wash Scalp Oil - a quick, nutrient-filled treatment you can do before you hop in the shower. It gently clarifies to remove buildup on your scalp, but it does so without drying skin or hair like many clarifiers can.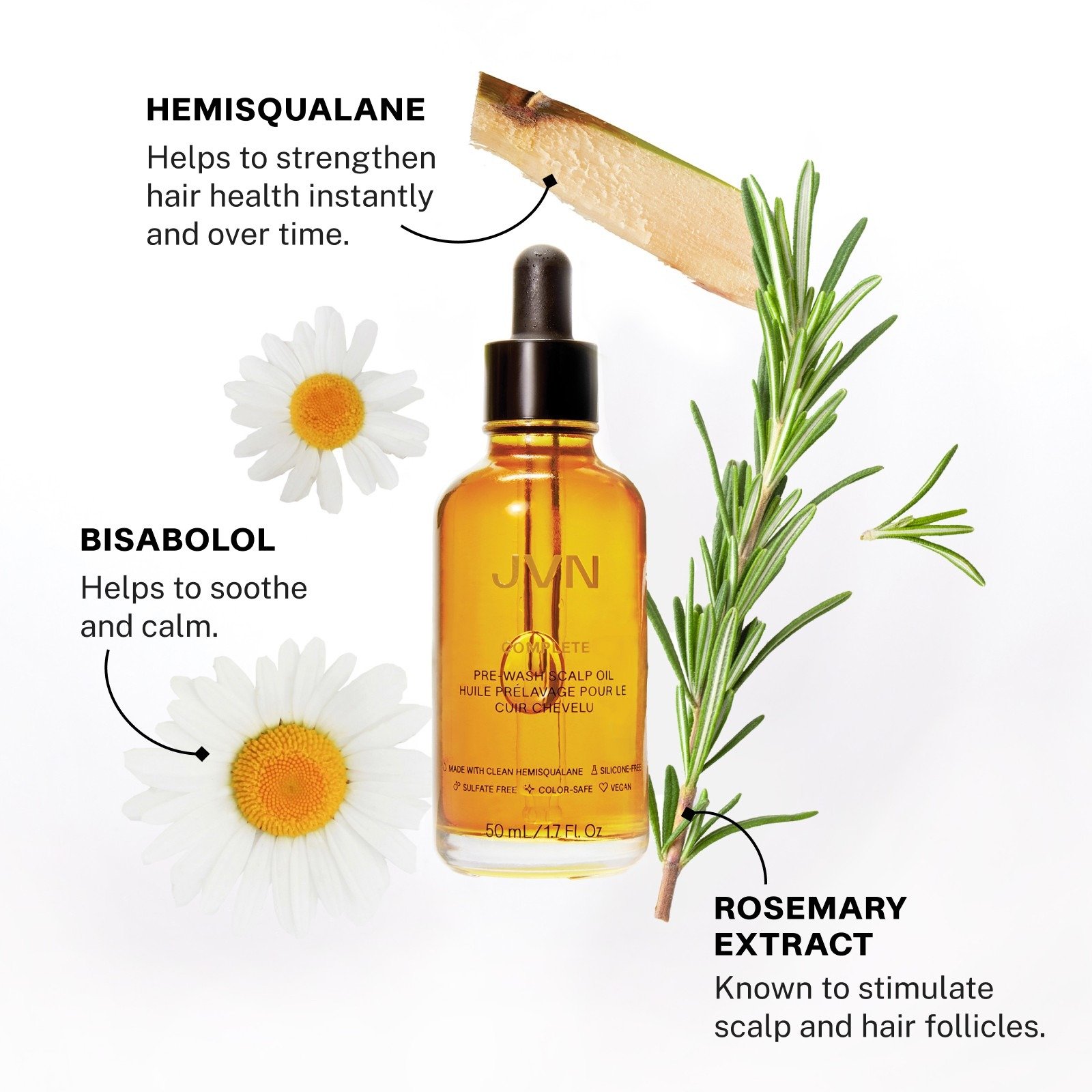 This golden magic in a bottle does this thanks to a cast of utterly impressive and clean ingredients, like Bisabolol (derived from sustainably sourced chamomile) which calms and soothes stressed skin as well as anti-inflammatory Turmeric Extract.
It also contains botanical powerhouse Rosemary Extract, which is excellent for your hair and a G.O.A.T for your scalp. Shown to improve circulation and stimulation, the inclusion of Rosemary Oil in your scalp oil can be beneficial for creating a healthy environment for the most abundant hair growth your individual genetics will allow!
HOW TO USE:
1. Apply 2-3 droppers full directly to your scalp and gently massage it in with your fingertips when hair is dry and unwashed.
TIP: Add more oil as needed to ensure your whole scalp shares the love.
2. Leave on for 10-15 minutes while you strategize how to rule the world.
3. Shampoo twice to ensure all oil is removed and repeat up to 3x per week - following up with your favorite conditioner.
CHOOSE SULFATE-FREE, SILICONE-FREE, PARABEN-FREE SHAMPOO
Are these common haircare ingredients bad for your scalp? Depending on the type and your individual sensitivities, they sure can be. Why?
Silicones are capable of building up on your scalp and hair, attracting dirt and debris while preventing needed moisture and nutrients from penetrating your hair strands and clogging pores.
Sulfates in shampoos work as a surfactant, which means they cleanse dirt and debris away - but they tend to be quite harsh and contribute to drying and irritation.
Parabens create irritation and inflammation in those with more sensitive scalps.
The microbiome we were talking about before will send you a fruit basket for avoiding these disruptive ingredients. One of the fancy ones, with pineapple cut into the shape of flowers. Fortunately, each and every JVN shampoo and conditioner are formulated without silicones, sulfates or parabens - so picking one is a breeze.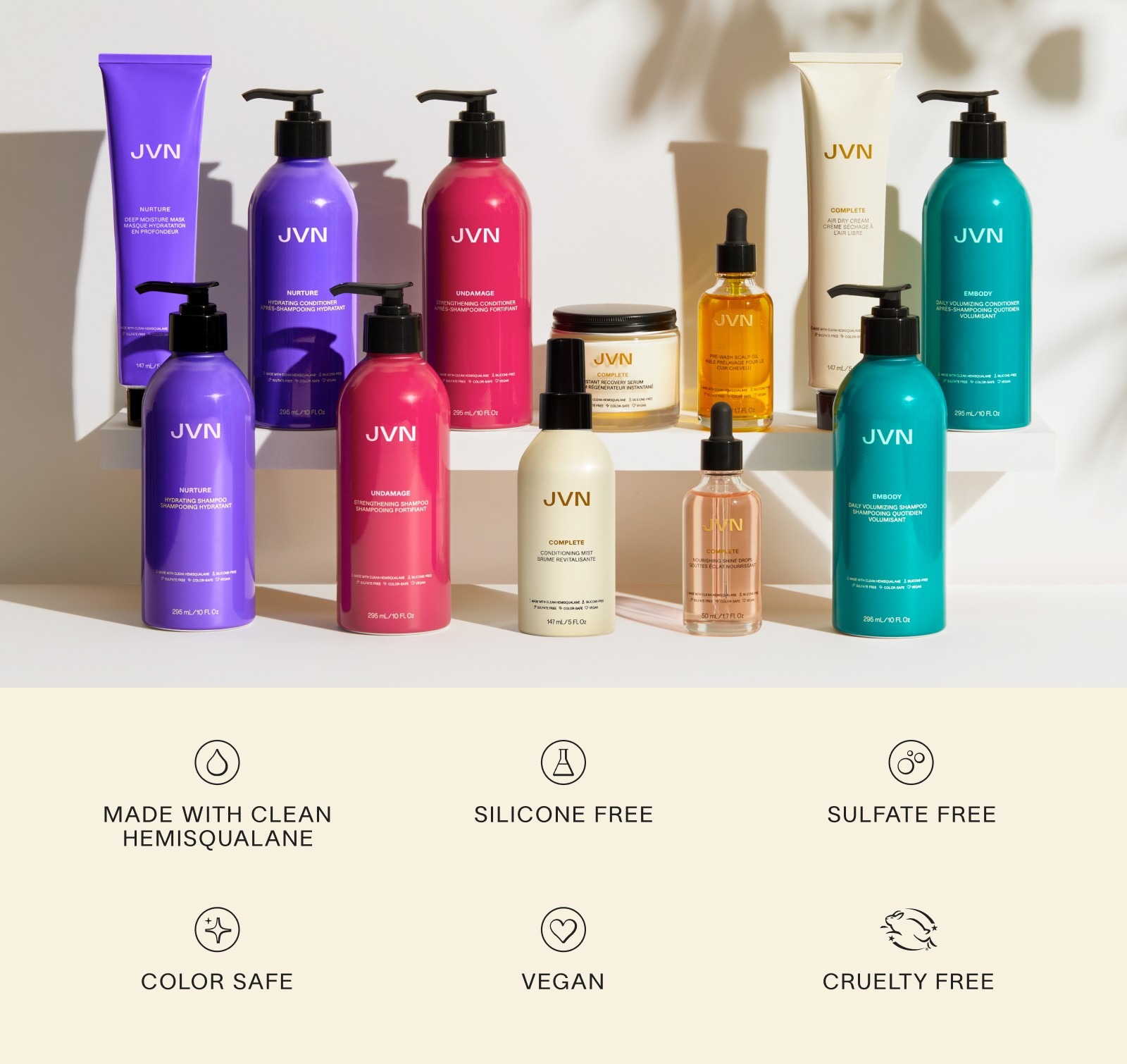 In fact, all of our products are formulated instead with our sustainable, superior-to-silicone, patented powerhouse Hemisqualane for weightless nourishment, shine and strength - making each of our offerings moisturizing, nourishing and replenishing enough for ALL scalps. All you've gotta do is pick the perfect shampoo for your personal hair concerns to follow your Pre-Wash Scalp Oil step and you're on your way to reaching those hashtag hair goals.
Embody Daily Volumizing Shampoo
If your scalp just likes to live that oily life or you have a tendency toward buildup, try this clarifying shampoo on for size.
Perfect for all, it's also our recommended best shampoo for oily hair and scalp. It lightly clarifies, which means it will help to gently remove buildup without making your hair or skin feel dry. It even contains Caffeine for stimulating hair follicles and encouraging growth as well as Aloe Leaf Juice to lusciously hydrate your scalp and strands without weight. The benefits are twofold, not only will your scalp feel free and breezy afterward, but your hair will enjoy a sexy volume moment.
Nurture Hydrating Shampoo
If your scalp is just perpetually parched, look no further than this one.
Light enough for all hair types to enjoy, this is our recommended best shampoo for dry hair. Rich in moisture giving ingredients like Camellia Seed Oil, this formulation will gently cleanse while supplying much needed hydration for your hair and scalp if factors like climate, genetics or heat styling leave your tresses on the drier side.
Undamage Strengthening Shampoo
If your scalp and hair have been stressed by texture or color treatments, add this one to your life.
Any hair type can reap the benefits here but this is our recommended best shampoo for delicate, chemically treated or damaged hair. Loaded up with Ceramides, an ingredient found in skincare too, this shampoo helps to lock moisture into hair and scalp while Jojoba Esters work on your strands themselves to fill in cracks and increase strength.
But Wait, There's More!
Once you've tended to your scalp don't forget your ends! Each collection has a matching conditioner that focuses on making the rest of your hair past the root feel flawless (or pssst, you can mix and match them to truly customize your wash day.)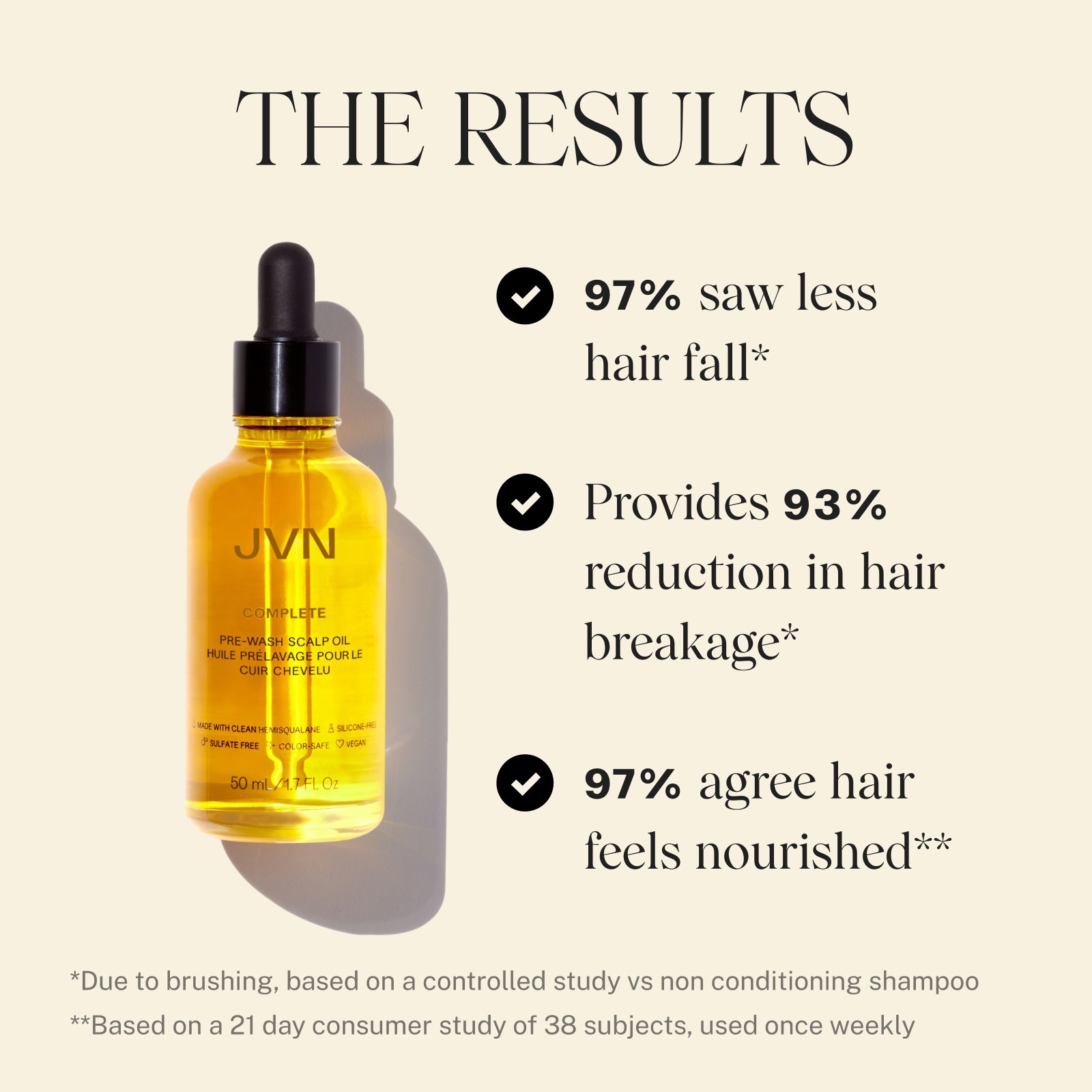 SCALP CARE = HAIR CARE
Caring for your scalp is a simple and effective way to set your hair up for its best possible outcome. By keeping the environment in which our hair springs into this world balanced, moisturized and free of debris, we can ensure the strongest, softest, and most abundant strands that our genetics will allow. Adding products to your routine that support your hair and skin with clean, sustainable and high performance ingredients is the first and simplest step on your journey for your best hair ever.
Check out our entire earth, hair and scalp friendly line here.
About JVN
With a focus on science-backed, sustainable ingredients that are truly effective, JVN is nongendered haircare made for everyone.
About JVN
With a focus on science-backed, sustainable ingredients that are truly effective, JVN is nongendered haircare made for everyone.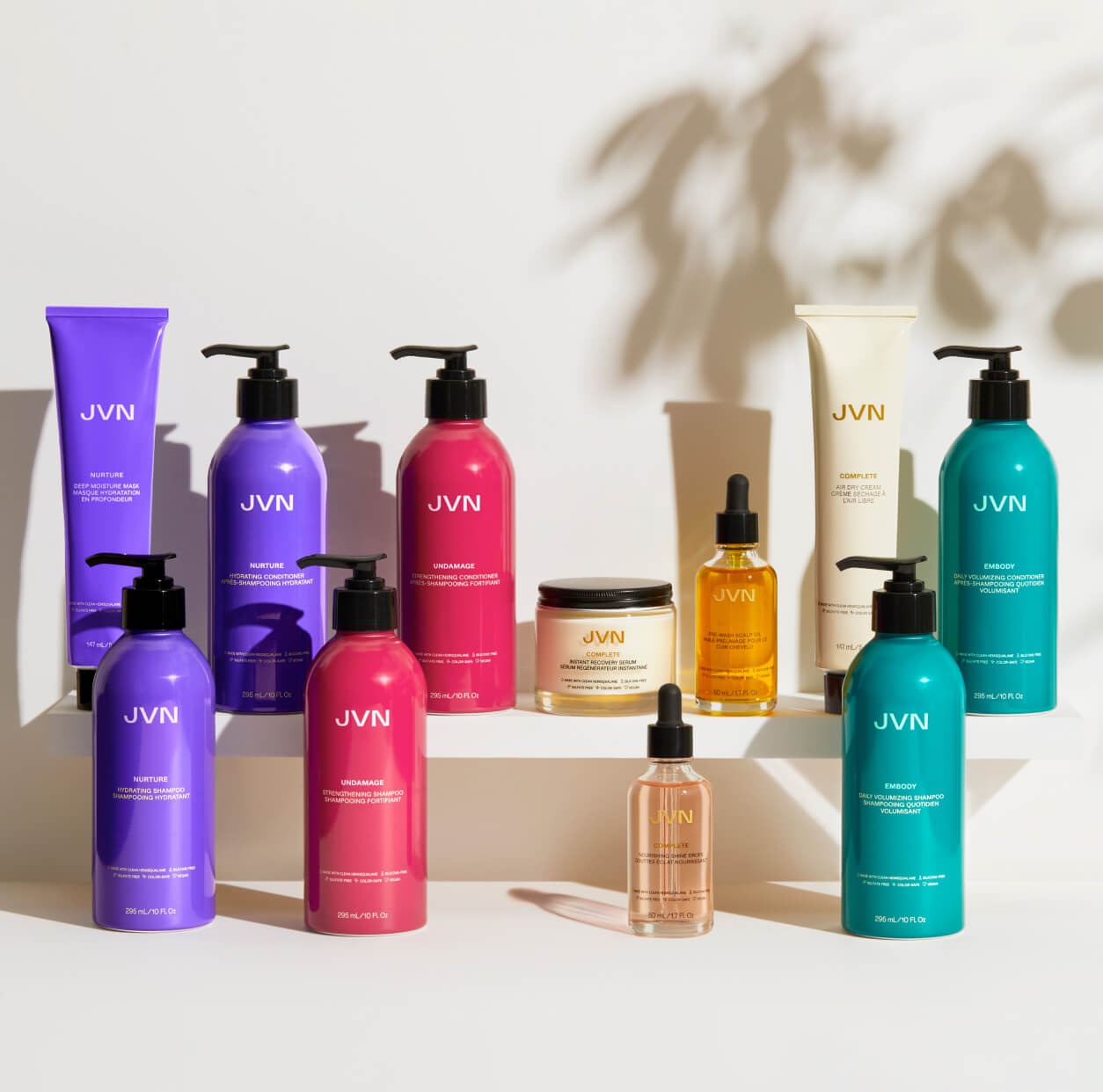 Want to find what works for you?
TAKE THE QUIZ