UNDER THE DRYER
Why New Nurture Intense Hydration Mask Is A Game Changer For Dry Hair
Your softest, smoothest hair has arrived!
Hair needs moisture. It likes a quenching, nourishing drink of healthy hydration to make it feel its softest, smoothest and sleekest. Hair is shinier, less prone to frizz and looks more lush and healthy when it's hydrated. Everybody wants that.
Which is exactly why we created the most luxurious, deeply nourishing and instantly hydrating mask ever. Introducing - JVN's Nurture Intense Hydration Mask! Our newest and most innovative product yet, this mask delivers deep, lasting moisture and strength in just 3 minutes. Dry hair never stood a chance.
WHAT WILL A HAIR MASK DO FOR MY HAIR?
A single, quick and easy treatment with Nurture Intense Hydration Mask instantly hydrates, retains moisture & controls frizz for up to 72 hours after one use.* It also leaves hair 15x easier to comb.* No wonder 100% of users said their hair felt more nourished and hydrated** while 97% saw a reduction in the appearance of split ends** over time.
With results as amazing as these, one would think that this mask was formulated with the latest in clean, sustainably sourced, lab proven ingredients. They would be correct.
WHAT IS A TRIPLE HYDRATION SYSTEM?
Formulated for all hair types, Nurture Intense Hydration mask is lab proven to deliver instant benefits - thanks to a first-of-its-kind Triple Hydration System. This system features three core ingredients that all work together to provide hydration, lock it in, boost shine, increase manageability and reduce the appearance of split ends. What are these ingredients? We're so glad you asked:
KERATRIS
An innovative and completely vegan alternative to hydrolyzed keratin that helps increase hydration and shine while reducing frizz.
HEMISQUALANE
Our patented, revolutionary alternative to silicones - derived from sustainably sourced, bio fermented sugarcane - which helps improve hair health and strength instantly and over time.
AMINO ACIDS
Reduces the look of split ends by smoothing and nourishing the hair cuticle for a silkier look and feel.
KERATRIS VS. KERATIN
A key player in our Triple Hydration System is our trailblazing alternative to hydrolyzed keratin, Keratris. Found in many haircare products and treatments, hydrolyzed keratin provides hydration, protection and increased shine and manageability. It's also animal-derived, making it a less sustainable option. That's not us, so we set out to find a vegan alternative that would provide the same benefits.
Derived from upcycled oranges (all of those good parts of the fruit like the peels, pulp and pith that aren't used for juice), Keratris helps to increase hydration and shine while reducing frizz along with the two other core ingredients of our Triple Hydration System. What's more - it won't build up on your hair, which can make it feel stiff or brittle over time.
HOW DO I USE IT?
Use Once Or Twice Per Week
Replace your normal conditioner with Nurture Intense Hydration Mask after shampooing with your fav JVN shampoo.
Choose The Right Amount
Start with a strawberry-size amount if you have fine or higher porosity hair. You can always add more until you find the right amount for you.
Start With Your Ends
This area of your hair is the most dry, so you'll want to apply here first. Work your way up through your mid-lengths and then comb through with a wide tooth comb to ensure the most even distribution.
It Just Takes 3 Minutes
Allow the mask to sit for 3 minutes, or up to 5 or more if you'd like to extend your treatment. Rinse thoroughly with warm to tepid water.
YOUR HAIR IS ABOUT TO LIVE HYDRATED EVER AFTER
3 minutes. 3 core ingredients. 3 days of moisture. It's true what they say - good things definitely come in threes. Nurture Intense Hydration Mask is a soft and healthy hair routine must-have, filled with breakthrough ingredients and wrapped in an infinitely recyclable aluminum package. It's like taking a quick, 3 minute spa moment just for you - and trust us - you and your hair are worth it.
*In a controlled hair swatch study, after one use
**Based on a 21-day consumer study of 35 subjects used once per week
About JVN
With a focus on science-backed, sustainable ingredients that are truly effective, JVN is nongendered haircare made for everyone.
About JVN
With a focus on science-backed, sustainable ingredients that are truly effective, JVN is nongendered haircare made for everyone.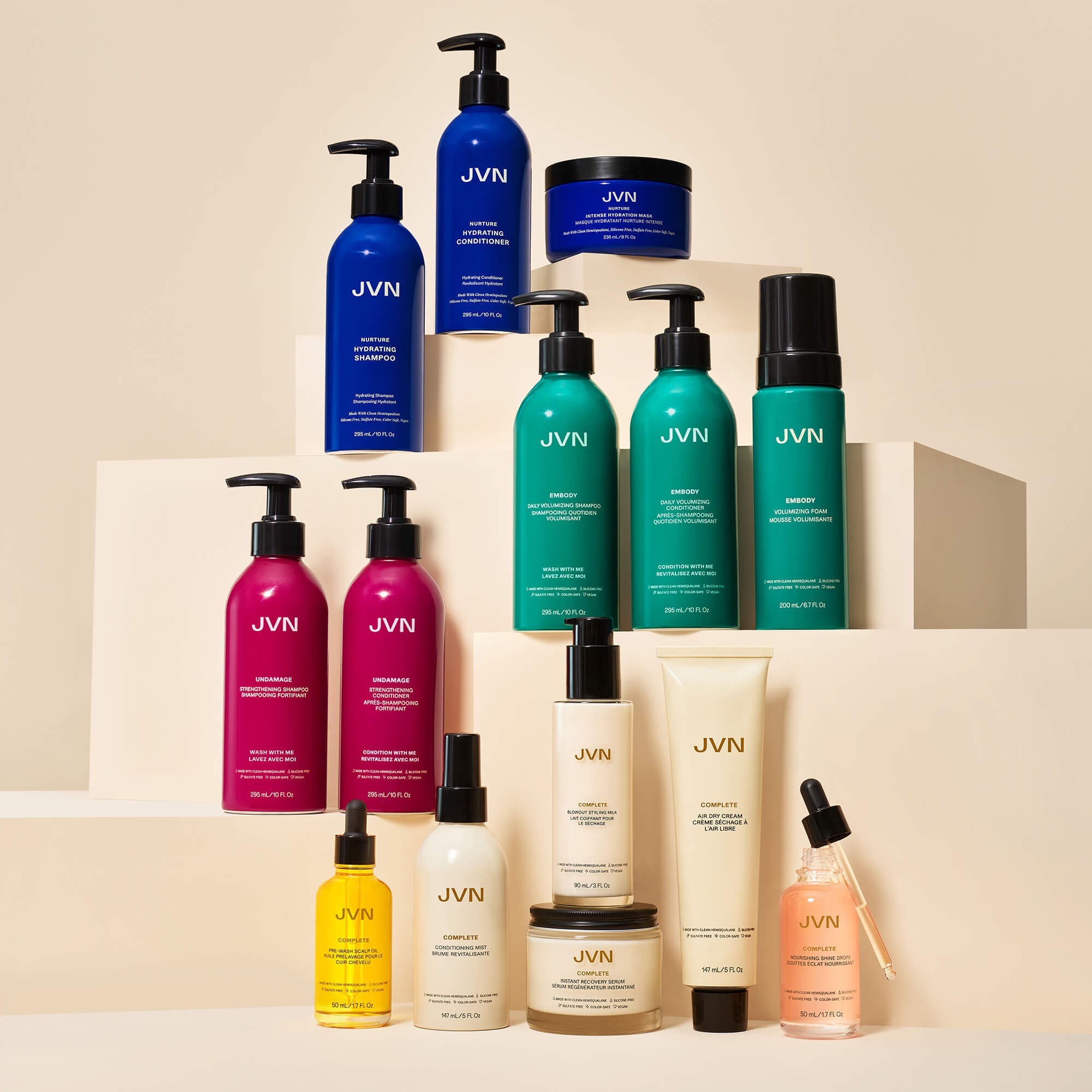 Find what works for you
TAKE THE QUIZ