UNDER THE DRYER
What JVN Products Protect My Hair from Heat Damage?
JVN has 2 options for protecting hair from heat & elongating the life of your style. Learn the differences between the two products and how to beat the heat!
The haircare world can be a confusing place when trying to decide what products will work best for you. Trust us, we've been there. Standing in the aisle, staring at labels, and scratching our heads hoping we picked the right product. One thing is for certain, a heat protectant is essential for every haircare routine. But, why do we need heat protection and which one is right for you?
Why do we need heat protection for our hair?
Heat protectants are vital to our strands because they reduce moisture loss with a protective layer, and prevent breakage. The main culprit of heat damage to our hair:
Thermal tools - This may be the most obvious reason, but it shouldn't be taken lightly! Applying direct heat to the hair without a heat protectant will pull moisture out of the strand and can completely change the structure. You may start to notice the hair feels drier, lacking luster, easily tangles, and breakage.
Also, it is a common misconception that if you are not using a thermal tool on your hair, a heat protectant isn't necessary. Even when air drying, a heat protectant is still very much needed and extremely useful! Using a product that provides a protective layer for the cuticle will protect hair from indirect and direct heat exposure.
What JVN hair products should I use for heat protection?
JVN Instant Recovery Serum
Instant Recovery Serum is a repairing and priming treatment with an amazing benefit of balancing the hair's porosity. If the strands have split ends or damage, this serum will help fortify the hair to regain strength. Absorption and layering of products are more effective when the strands are properly balanced.
It's a similar concept for a primer you would use on your face to enhance the performance and overall finished look before putting on your makeup.
This heat protectant is an excellent choice for someone who likes to air dry or heat style. Start with a quarter size amount on damp hair, rub together between your hands, then distribute mid-lengths to ends.
Pro-tip: Use a wide tooth comb to ensure all the hair strands are receiving equal parts of love!
JVN Blowout Styling Milk
But, let's say you're a Blow Dry Super Fan and love to use all the different types of heat styling tools in your repertoire.
Complete Blowout Styling Milk is a styling product for your hair that has heat activated technology. This technology is key in delivering style memory, a 48-hour hold, and long term humidity control. Anyone that uses direct heat styling can continue looking gorgeous knowing this product is protecting their strands for up to 450°F.
This is the perfect heat protectant option for someone looking to extend their smooth, salon styled blowout or cute bouncy curls in between wash days.
Begin with 1-2 pumps into the palm of your hand then rub together before distributing the product on wet/damp hair.
Remember our Pro-tip? Go ahead and use the wide tooth comb again, so no hair feels left out. Blow dry the hair until about 80% dry, then use a round brush or thermal brush for a smooth, shiny finish.
Tips & Techniques for Using JVN Heat Protectants
And… guess what else???
Instant Recovery Serum and Complete Blowout Styling Milk can be used independently or layered together. When the two products are layered together the benefits are maximized, making them a perfect pairing for those who use hot tools but still need reparative benefits.
Layer the Instant Recovery Serum before the Blowout Styling Milk, ensuring the priming benefits of the serum meld deep into the hair cuticles for any protective and corrective measures.
Let's Wrap This Up
Choosing your hairstyle for the day should be fun, easy, and enjoyable. So, whether you need to restore your hair's moisture, balance the porosity, control frizz, or need a lasting style our heat protection heroes got you covered for all the right reasons!
We'd love to hear from you! What are your favorite ways to style your hair?
About JVN
With a focus on science-backed, sustainable ingredients that are truly effective, JVN is nongendered haircare made for everyone.
About JVN
With a focus on science-backed, sustainable ingredients that are truly effective, JVN is nongendered haircare made for everyone.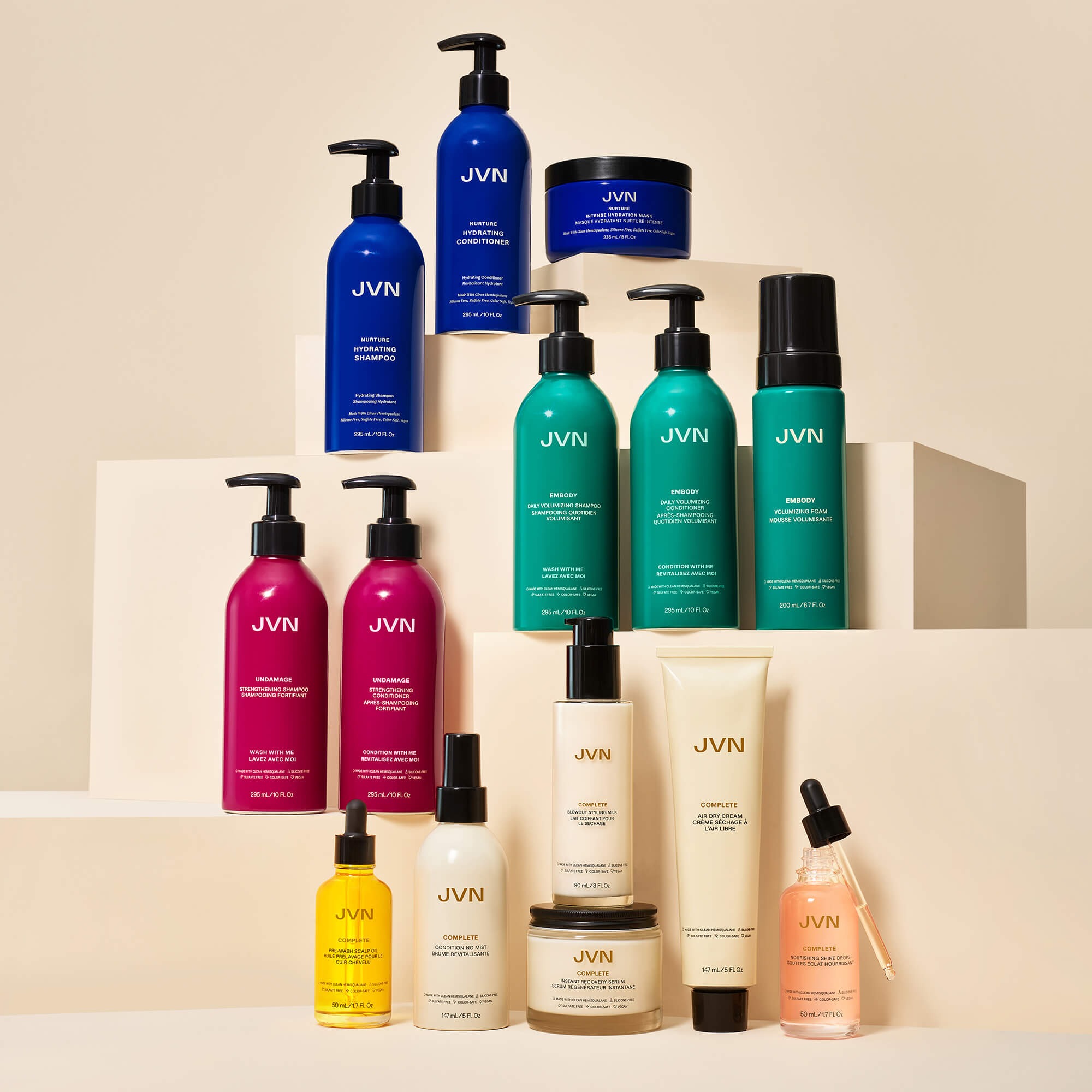 Find out what works for you
TAKE THE QUIZ