UNDER THE DRYER
Top 10 Dry Hair Defeating Hacks For Fab Fall Hair
As the temps drop, seasonal dryness takes a front seat. Never fear - JVN is here!
Ah, autumn. The weather is crisping up, the leaves are falling and your scalp feels so dry it could be a great location for the next Burning Man. Yup, as temperatures get cooler and the humidity starts to decline, the dryness factor for your hair and skin starts to steal focus from those gorgeous fall leaves. Are we simply destined to pay this price for pumpkin spice and cute sweaters? Not at all!
We've rounded up the top ten expert tips for keeping your hair feeling smooth, frizz-free and healthy straight through to winter and beyond.
1. HAVE A GREAT FALL HAIRCUT
Starting the season off with a trim sets your strands up for success by removing the driest, most fragile section of your hair - the ends. Split ends are especially prevalent when the weather gets dry, so trimming things up will keep everything looking and feeling smoother right out of the gate.
Our recommendation -
Give your stylist a call and book an appointment for a fresh fall 'do. Looking for a salon that carries JVN? Check out our salon locator to find a JVN Professional salon near you!
2. INCLUDE SCALP CARE IN YOUR ROUTINE
Dry weather = dry scalp, which can feel itchy, irritated and tight at best or flakey and inflamed at worst. That not only doesn't capture the "it's fall, y'all" spirit, it can also negatively impact the overall health of your hair by disrupting your scalp's natural balance.
Our recommendation -
Pre-Wash Scalp Oil is your dry-weather BEST friend. Rich, plant-based ingredients like Neem Seed Oil and Rosemary Extract will help keep your scalp soothed, calm and moisturized straight through to spring (and beyond).
3. SULFATE-FREE IS THE WAY TO BE
Sulfates are a type of surfactant found in many shampoos - which basically means that they lift dirt and debris away from your hair and scalp. Certain types of sulfates (Sodium Lauryl Sulfate, Sodium Laureth Sulfate, Ammonium Laureth Sulfate, etc.) do this job a little too aggressively, lifting your natural oils away as well and resulting in dryness.
Our recommendation -
Sulfates? We don't know them. All JVN shampoos are sulfate-free! What's more, they're formulated for all hair types based on hair concern, so they help everyone hit their gorgeous hair goals from 1a to 4c.
4. CHOOSE MOISTURIZING FORMULATIONS
When the humidity begins to leave the air, supplementing that moisture loss with high quality hair products is essential to keeping your hair feeling soft, smooth and sleek.
Our recommendation -
Our Nurture collection is specifically formulated to deliver ultra-rich moisture from Aloe Leaf Juice and Camellia Seed Oil without leaving hair feeling heavy, so all hair types and textures (including fine hair!) can feel hydrated all season.
5. AVOID STYLING PRODUCTS WITH DRYING ALCOHOLS
Alcohol is a common hair ingredient, but some are just built different - namely the short chain alcohols added to help products like hair spray, mouse, etc. dry more quickly. The problem is, these alcohols (ethyl alcohol, isopropanol alcohol, benzyl alcohol, etc.) don't just dry the product, they dry your hair out right along with it.
Our recommendation -
Embody Volumizing Foam is drying alcohol-free, relying on plant-derived ingredients like hydrating Marshmallow Root Extract so you can enjoy all the fullness, body and lasting hold without drying your hair out more than the weather already has
6. START YOUR STYLE WITH A BALANCING HAIR PRIMER
Hair primers can do a variety of things, but those that balance your porosity are key to flawless fall style. Why? Your hair's porosity is just its ability to hold onto moisture - so balancing that helps lock moisture in more evenly through your entire hair strand.
Our recommendation -
Instant Recovery Serum is a must-have hair primer for moisture retaining porosity balance, but that's not all - it also supports keratin strength with skincare-for-hair ingredients like Niacinamide for healthier hair overall.
7. USE HEAT PROTECTION EVERY SINGLE TIME
Heat styling tools put major stress on the outer layer of your hair, which is responsible for keeping moisture inside where you want it. Eventually, this stress can result in hair strands that feel dry, brittle and frizzy at all times.
Our recommendation -
Heat style safely with Blowout Styling Milk, which provides up to 450° of heat protection while also locking your style in and defending against frizz for up to 48 hours.
8. ROTATE HEAT-FREE STYLES INTO YOUR ROUTINE
You're heat styling safely now, which is perfect, but trading in your diffuser, flat iron or curling iron a couple times per week is another great idea if you're trying to keep your hair in tip-top shape.
Our recommendation -
Embrace your natural texture effortlessly with Air Dry Cream on your heat-free days for soft, lasting hold and frizz defense. Your hair gets a break and your natural curls, waves or heat-free styles (think sleek ponies, heatless hair curlers, etc) get to enjoy center stage. Win/win.
9. KEEP LEAVE-IN CONDITIONER ON SPEED DIAL
This is the time of year when being a little extra in the moisture category is an especially good idea. A lightweight leave-in will not only lend itself to easier hair detangling out of the shower, it also adds an extra hit of hydration that will hang around longer since it isn't being rinsed out.
Our recommendation -
Four words - Leave-In Conditioning Mist. This one is a fall must for the light, extended hydration it provides before styling as well as its refreshing powers on day-two hair and beyond.
10. HAIR OIL. TRUST US.
Not only can oils that are specifically formulated for hair add shine and sleekness to your strands, they can also help lock moisture in place - which will keep hair feeling hydrated longer.
Our recommendation -
Award winning Nourishing Shine Drops is the perfect finishing touch for flawless fall style. Not only does it reduce frizz by 96% and provide 24-hour frizz control - it's also formulated without silicones, so it won't build up and weigh your hair down overtime.
Be sure to follow us on Instagram and TikTok for tons of expert hair tips and tricks on the daily!
About JVN
With a focus on science-backed, sustainable ingredients that are truly effective, JVN is nongendered haircare made for everyone.
About JVN
With a focus on science-backed, sustainable ingredients that are truly effective, JVN is nongendered haircare made for everyone.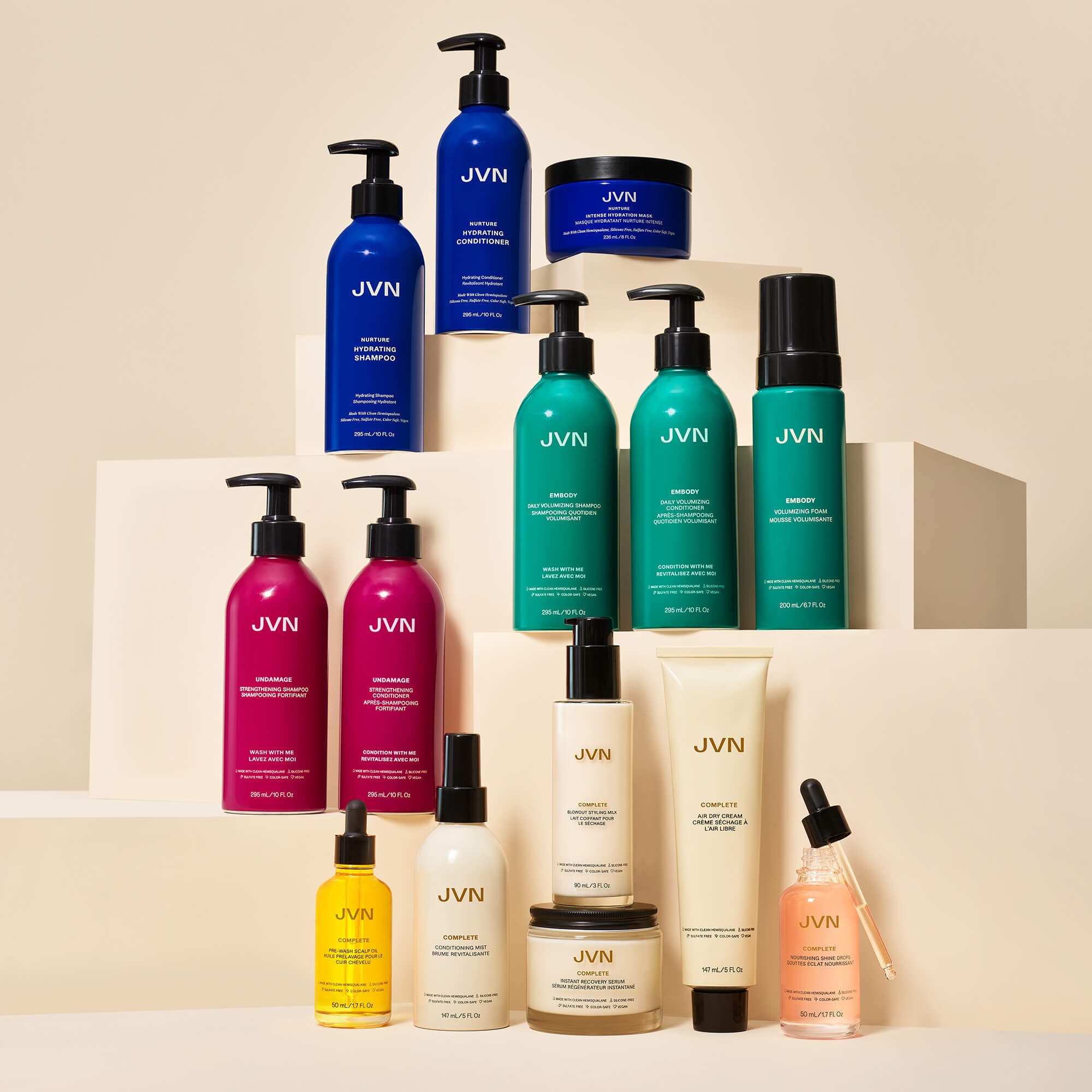 Want to find what works for you?
TAKE THE QUIZ