UNDER THE DRYER
Super Simple Tips & Tricks for Gorgeous Gray Hair
Gray hair has its own set of needs to stay healthy and happy. We have all the tips and tricks for keeping your fiercest, flossiest strands stunning
Have your strands started to gain a little extra sparkle here and there? Awesome! Going gray is a gorgeous and natural part of everyone's hair journey and we're all about celebrating milestones around here. That doesn't mean that a fair amount of anxiety might not come along with this new stage - which is natural too. When our hair undergoes a change, that means your go-to haircare routine might need a little refresh, which can feel overwhelming.
Embracing your hair and giving it what it needs at every stage is key, so follow these tips and confidently rock that silver.
MAKING A SMOOTH TRANSITION
The first sighting of salt and pepper in your strands typically sparks the same question for most people - should I cover it up or embrace it right away?
OPTIONS:
The answer to that question is totally up to you and whichever way you decide to go is completely valid. It's your hair and how you choose to wear it is something to feel fantastic about. Here are some common ways to address your new gray, from most maintenance to least.
1. All Over Permanent Color:
Pros: If you wish to entirely cover your gray, this is the way to go.
Cons: The downside is that it covers all of the other hairs on your head too. This will create a more obvious line when your hair grows in, which makes it the most maintenance to keep up.
2. All Over Semi-Permanent Color:
Pros: Great for if you don't mind seeing some of your gray. This option won't entirely cover your gray, but instead lightly tint it, creating a blending effect. It's also designed to fade after each wash, minimizing the harsher grow out line that permanent color leaves.
Cons: Can depend on the person. If your gray is "resistant" (meaning, it doesn't want to take color very well), then it may not take on any of the tint and you're left with no blending of your gray at all.
3. Highlights:
Pros: Ideal for low maintenance gray blending. Adding lighter hues throughout your hair will cover some of your gray while helping the rest to blend in. This technique also grows out more subtly than an all over color, so you can possibly stretch appointments out further depending on your preference.
Cons: The lighter you go, the more potential you have for damage over time. If you go with this option, add a great strengthening shampoo & conditioner to your routine like the Undamage Collection.
4. Au Natural:
Pros: The least maintenance of all. Simply allow your gray to come in and focus on maintaining its gorgeousness.
Cons: Can go through some awkward stages as gray comes in sporadically and causes texture/porosity/health changes that are hard to anticipate. It's nothing that can't be dealt with however - read on for everything you need to know.
PLAY WITH YOUR NEW TEXTURE
As your hair begins to gain luminous new lights, it can also begin to experience a texture shift. While some of us will feel like our hair becomes finer and more flyaway, others can feel a shift toward the coarser end of the spectrum. This can mean your haircut, styling techniques and/or products might not work the way they used to.
TIP:
Do a little research on looks featuring glam gray hair and give a few new ones a try. YouTube is full of styling tutorials that can walk you through a fun new style or two until you find a new fav.
Looking for a little more 1-on-1 assistance? Grab a bunch of inspo picks and make an appointment with your stylist! A trained pro can help you select the right cut and style for your new texture that's tailored specifically for you.
Looking for a salon that carries JVN? Click HERE
MOISTURE IS YOUR BEST FRIEND
Gray hair of all textures and densities needs hydration and nourishment to minimize the risk of it feeling dry, coarse or frizzy.
SOLUTION
Enter JVN's Nurture Collection from stage right. Not only will the entire collection provide instant hydration and moisture retention for up to 72 hours, it's formulated to do it without weighing your hair down, so it's an excellent option for everyone from the finest end of the spectrum all the way through to the coarsest.
ALWAYS USE UV PROTECTION
Enjoy spending time outdoors? You'll want to start taking some extra precautions first. All hair is susceptible to something called photodegradation, which can result in your hair lightening or bleaching as a result of UV ray exposure. This can be more noticeable for gray, silver and white hair, causing it to appear dull and yellow.
SOLUTION:
Nourishing Shine Drops provide 100% UV protection of hair (while reducing frizz and ramping up the shine in the process. That's a triple win right there.)
MAKE HEAT PROTECTION A NON-NEGOTIABLE
Heat styling can cause structural damage to hair strands of all types, textures and hues overtime - but when your hair is already on the more fragile side it can do it very quickly.
What's more, exposure to extreme heat (remember, most styling tools are capable of reaching temps around 450°F) can cause similar problems to what UV rays do for light hair colors like gray, silver, platinum blonde and white, leaving them dull or even yellow in appearance.
SOLUTION:
Heat protection to the rescue! Blowout Styling Milk protects hair from heat up to 450°F, which is just what the hair doc ordered for your gorgeous grays, but it does even more than that. This super unique formula leaves hair looking sleek and smooth (a plus if you've been fighting frizziness) while locking your style in for up to 48 hours. Less styling, smooth results and heat protection? Yeah, this one needs to be in every silver fox's styling arsenal.
GO FOR A BRIGHTENING GLAZE
We've talked about yellowing a couple of times now, which makes sense because that's one of the most common issues that gray strands face on the day to day. UV rays, heat and even prolonged exposure to environmental contaminants can cause gray to take on a warm, yellow-y cast over time.
SOLUTION:
We've already covered how exercising caution in the sun or while styling acts as your first line of defense, but you can also keep a purple or blue rinse on standby to ensure your strands stay looking bright and fresh. There are tons on the market from shampoos to in-shower treatments and masks, so choose the one that's best for you and give it a try.
CAUTION: These treatments can leave your hair with a purple or blue hue if used too frequently, so they're best used on a rotation with your regular shampoo and conditioner as a weekly or even bi-weekly treatment.
ADD STRENGTHENING FORMULAS TO YOUR ROUTINE
As your hair begins to gray it can also start to undergo a thinning of the outer cuticle layer, which can leave it more susceptible to damage or breakage.
SOLUTION:
Allow us to introduce you to your new best friend Instant Recovery Serum. This magic, universal hair serum is formulated with Niacinamide, which helps support keratin repair and strength as well as Hemisqualane, which helps improve hair health and strength instantly and over time. (Psst. It also provides up to 450°F heat protection, so it's doing double duty on your "Gray Hair Must-Haves" list.)
Now you have everything you need to embrace your phenomenal new hair and we love to see it. Rock that gray with confidence, you've earned it!
For even more on this, check out Jonathan's video all about keeping your grays gorg HERE and be sure to follow us on Instagram and TikTok for all of the expert hair tips and tricks!
About JVN
With a focus on science-backed, sustainable ingredients that are truly effective, JVN is nongendered haircare made for everyone.
About JVN
With a focus on science-backed, sustainable ingredients that are truly effective, JVN is nongendered haircare made for everyone.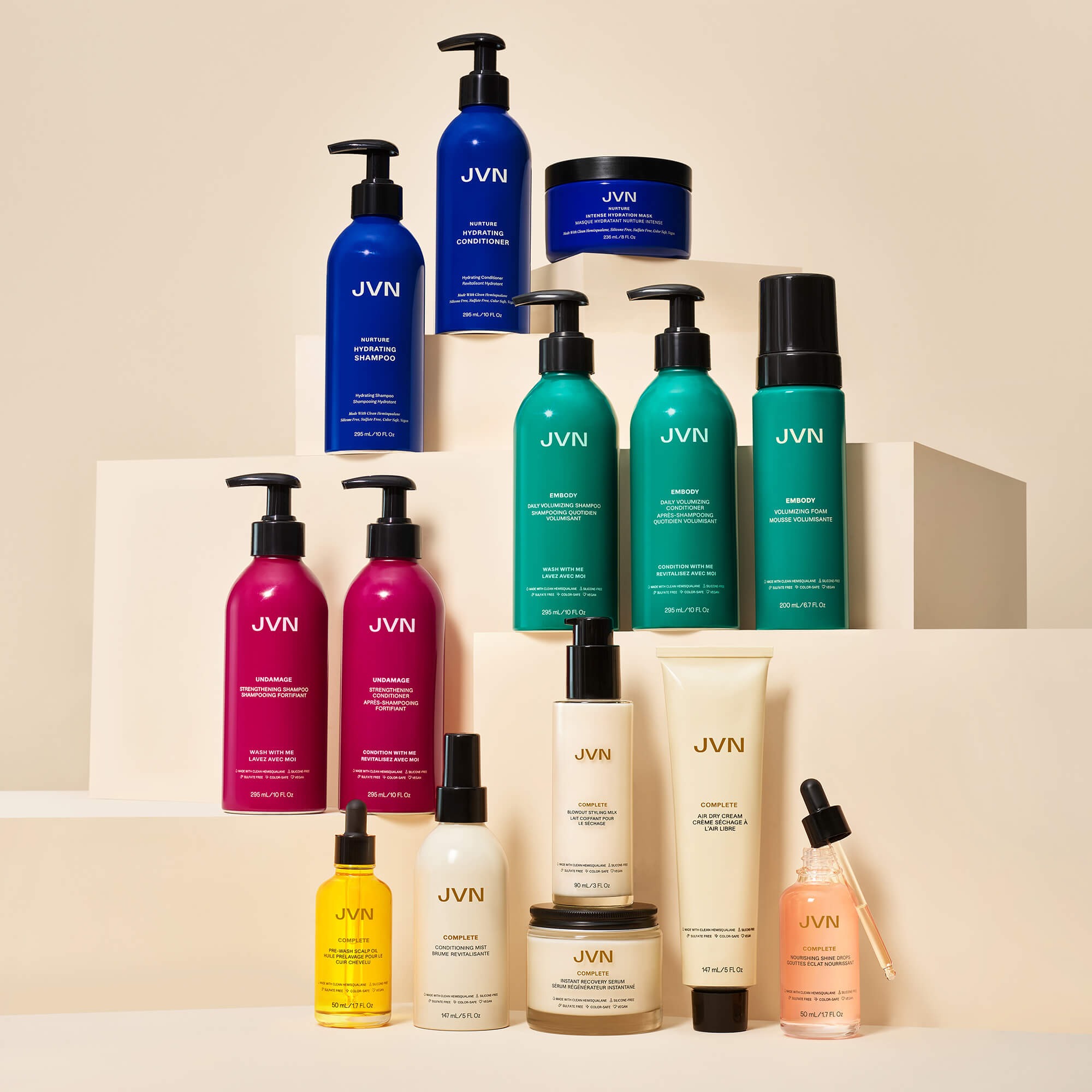 Want to find out what works for you?
TAKE THE QUIZ