UNDER THE DRYER
Protect Your Hair from the Summer Sun with these 5 Products
Protecting and repairing your hair from the summer sun couldn't be any easier with these 5 products from JVN. The COMPLETE guide to being beach bag ready!
Did you know that your hair can drastically change over the summer just from being out in the sun more often? Sure, that sun-kissed, naturally lightened hue to your hair may look kind of cute, and we love a change of pace! But… sun bleached hair can be just as damaging as the chemical bleaching process you'd get done in a salon.
Our hair strands are made up of dead cells, unlike our skin cells which are a mix of dead and living cells. The sun penetrates the melanin in the living skin cells, thus producing the darker summer glow. However, the melanin in the dead cells of our hair strands do the opposite, leaving the hair lightened. This will cause your hair to feel drier than normal, fragile, and worst of all: frizzy. Ugh!
Covering your hair all summer long isn't always an option, and let's be honest it's too hot out there. Just as we use sunscreen & SPF to protect our skin from the sun, we can take similar preventative measures for our hair. To protect those gorgeous beach waves and summer hairstyles, here are 5 products you need to be beach bag ready and feel COMPLETE!
1. Complete Nourishing Shine Drops
Complete Nourishing Shine Drops take the cake as the number one staple in everyone's travel bag this summer! Color degradation…not today, thanks to the UV protection! UV protection is an absolute must for any long days in the sun. It will help keep your gorgeous color from fading and receiving UV damage.
Whether you need to do a quick retouch or add some radiance to your hair, this product makes it quick and easy for dry and wet hair! Add a few drops into the palm of your hands and rub together. Then smooth the product over the mid-lengths to ends.
2. Complete Leave-In Conditioning Mist
Hair is like a sponge, absorbing everything insight and soaking it all in. Let's use that trait to our advantage and pack the Complete Leave-In Conditioning Mist everywhere we go! UV Protection… check! Instant moisture replenishment… double check! This product is the perfect sun protection for hair before a full day of laying out and after a rejuvenating evening shower!
Pro tip- Before a day of swimming, wet the hair first with the Complete Leave-In Conditioning Mist, then comb through using a wide tooth comb ensuring all the strands are well saturated to avoid the hair from soaking up chemicals.
3. Complete Air Dry Cream
After days in the sun, causing the hair to be more and more brittle, pausing from heat styling is always a great option to avoid further breakage. Complete Air Dry Cream is the go-to product for easy summer hairstyles. Enhance your gorgeous natural texture or create effortless, wavy mermaid hair that is perfect for those beach-side selfies!
Start with a pea size amount to control frizz. This product has a very lightweight, buildable formula, so you can always add more. Best of all, it's formulated for all hair types.
4. Complete Pre-Wash Scalp Oil
Complete Pre-Wash Scalp Oil is essential for any corrective measures from sun damage. Our scalps are often neglected and forgotten about in the summer when it should be the "root" of all routines!
Pre-Wash Scalp Oil has a combo of Turmeric Extract and Neem Seed Extract which will help reduce redness, hydrate, and calm the scalp. This moisturizing, yet clarifying pre-shampoo treatment is just the ticket to remove any product build-up, sand, or sweat, while keeping your scalp soothed and supple.
5. Complete Instant Recovery Serum
Last, but certainly not least, Complete Instant Recovery Serum is on this list for many reasons! The Charged Lemon Protein in this primer repairs and protects the hair from damage. Which makes this product an absolute must-have for any of our outdoor lover's summer bags.
In our Heat Protection Blog, we discussed how damage may occur even when you don't use heat tools. The sun's UV rays and constant ponytails can be responsible for stressed hair, compromised strength, and dryness. Instant Recovery Serum's fortifying formulation keeps the hair strong and minimizes the appearance of split ends! Using this product will ensure your hair is healthy, looks, and feels fresh during all of your summer fun-tivities!
Recover much needed nourishment, restore balance back to your hair, and re-strengthen the sun strained strands so all the products layered on top have optimum performance for your best looking summer styles!
Now You're Ready for Fun in the Sun
We've made it even easier for you to feel complete this summer with our UV Defense Duo! All of these wonderful products in one simple set to protect and repair your hair from the sun this season (plus, you save 15% when you buy them in the bundle).
Now go out and embrace the summer fun!
We'd love to hear from you, what is your favorite summer go to product?
About JVN
With a focus on science-backed, sustainable ingredients that are truly effective, JVN is nongendered haircare made for everyone.
About JVN
With a focus on science-backed, sustainable ingredients that are truly effective, JVN is nongendered haircare made for everyone.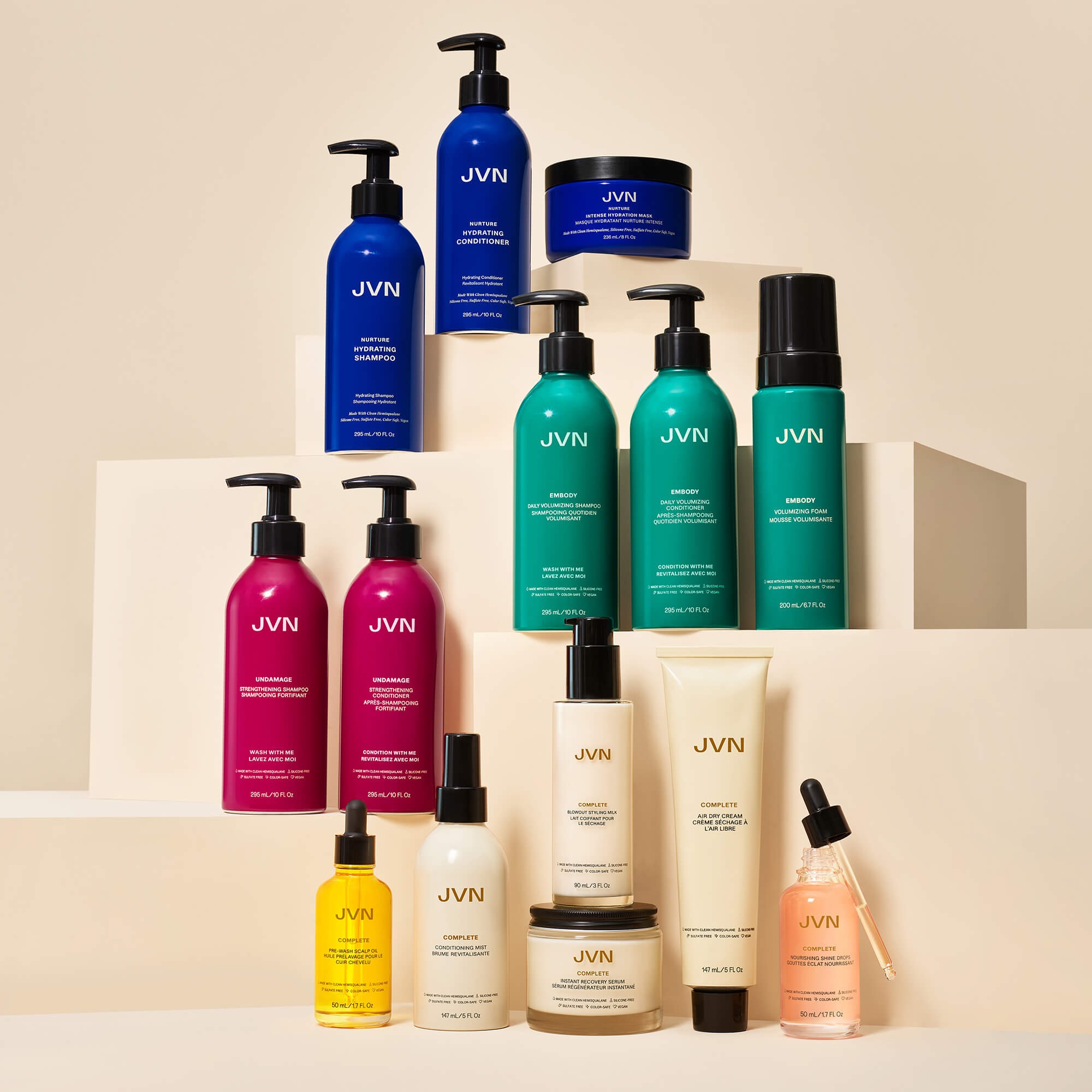 Want to find out what works for you?
TAKE THE QUIZ